Apple Walnut Quick Bread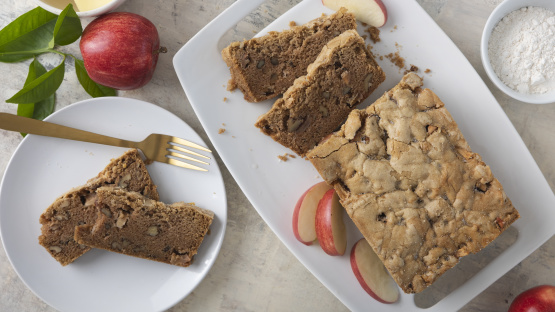 Ingredients
1 cup oil
3 eggs
2 cups sugar
1 teaspoon vanilla
3 cups apples, diced
3 cups flour
1 teaspoon cinnamon
1 teaspoon baking soda
1 teaspoon salt
1 cup walnuts, chopped (optional)
Directions:
Combine and set aside the oil, eggs, sugar, and vanilla.
Sift flour, cinnamon, soda, and salt. Add dry ingredients to oil mixture gradually.
Add apples and nuts.
Bake in 2 regular loaf pans or 3 foil loaf pans for 1 1/2 hours at 170 degrees.
Cool 10 minutes in the pan.
Sprinkle with sugar, if desired.