Blueberry Muffins
Makes 12ish.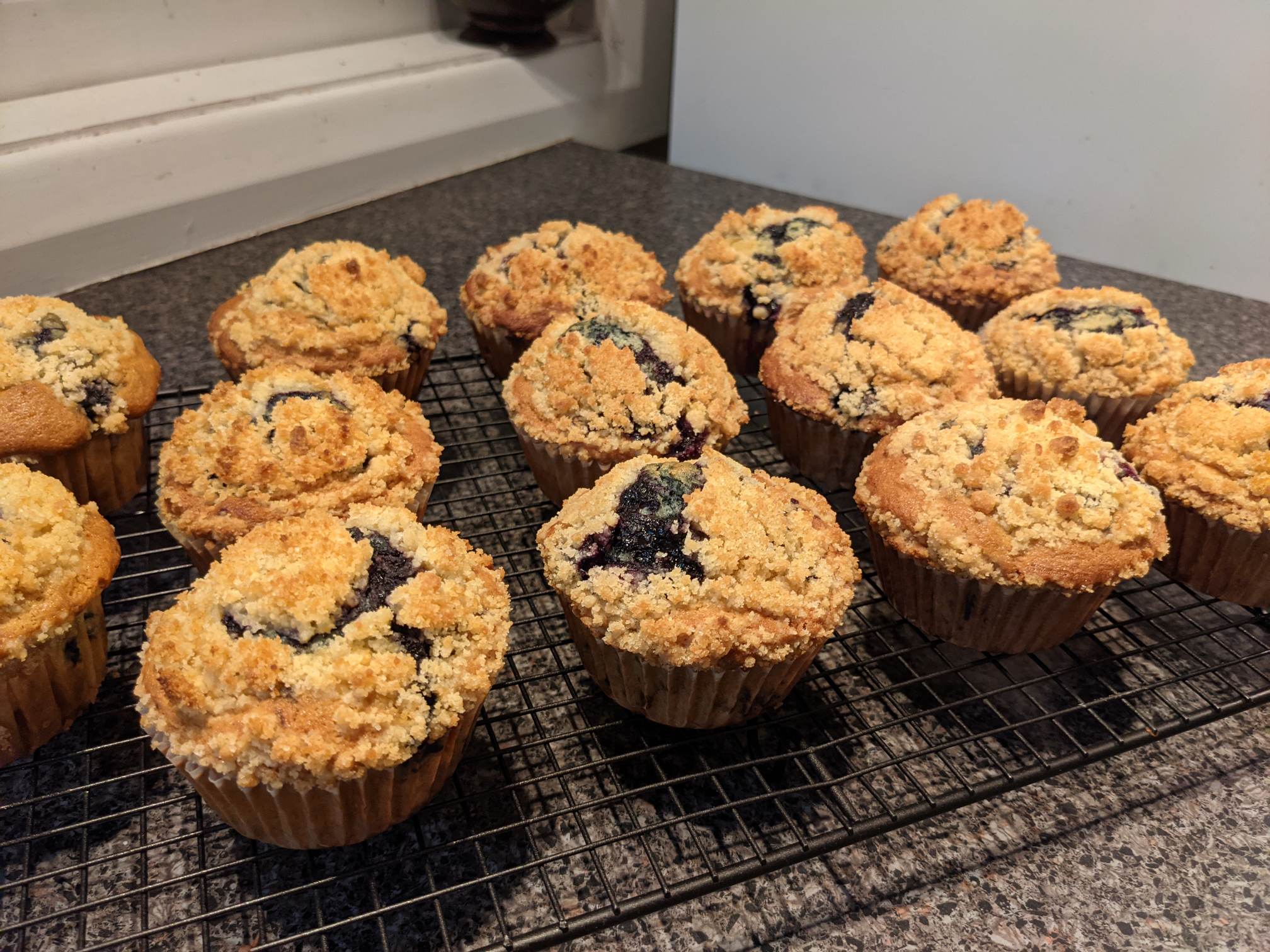 Ingredients
Topping
3/4 cup all purpose flour
1/4 cup granulated sugar
2 tablespoons light brown sugar
1/8 teaspoon freshly grated lemon zest, or just a lot of lemon juice
Pinch of salt
60g unsalted butter, melted and cooled
Muffins
2 cups fresh blueberries, divided, plus more to top
1 cup + 1 tablespoon granulated sugar, divided
1 tablespoon lemon juice
2 1/2 cups + 1 tablespoon all purpose flour, divided
2 teaspoons baking powder
1/2 teaspoon baking soda
1 teaspoon salt
2 large eggs
3 tablespoons unsalted butter, melted and cooled
1/4 cup olive oil
1 cup buttermilk
2 teaspoons vanilla extract
Directions
Streusel topping
Combine 3/4 cup flour, 1/4 cup granulated sugar, 2 tablespoons light brown sugar, 1/8 teaspoon lemon zest, and a pinch of salt. Whisk to combine. Pour in 4 tablespoons of melted butter. Mix until crumbs the size of peas are formed, then set aside.
Muffins
Preheat the oven to 220°C. Spray a muffin tin lightly with nonstick spray and line with muffin liners.
In a saucepan, heat 1 cup of the blueberries and 1 tablespoon of sugar over medium-high heat. Bring to a boil, reduce to a simmer, and break the blueberries apart with a fork or masher as they cook. Continue to cook until mixture is thickened and reduced by half, about 10 minutes. Remove from heat and stir in the lemon juice. Let cool to room temperature.
Meanwhile, combine 2 1/2 cups flour, 2 teaspoons baking powder, 1/2 teaspoon baking soda, and 1 teaspoon salt. In a separate bowl, whisk together 1 cup sugar, the eggs, vegetable oil, melted butter, buttermilk, and vanilla extract until well-combined.
Gently use a spatula to fold the wet ingredients into the dry ingredients, being careful not to over-mix. It's okay to have some small clumps of flour.
In a small bowl, toss the blueberries with the remaining tablespoon of flour until lightly coated. Fold into the muffin batter. Use an ice cream scoop to evenly divide the batter between 12 muffin cups (the mixture should fill all the way to the tops). Spoon the blueberry syrup mixture on top of each mound of muffin batter, then use a toothpick to swirl into the batter.
Top generously with the streusel mixture. You might have more than you need.
Bake for 15 minutes, then reduce heat to 190°C (but don't open the oven to check!) and continue to bake for 10 more minutes, or until golden. While the muffins are still warm, press additional blueberries onto the tops, if desired. Let cool in the muffin tin.
Notes
Frozen blueberries work well too --- just defrost them first and don't refreeze the leftovers. Don't put thawed blueberries on the top either.