Greek Meatballs with Tzatziki Sauce
Makes 4 servings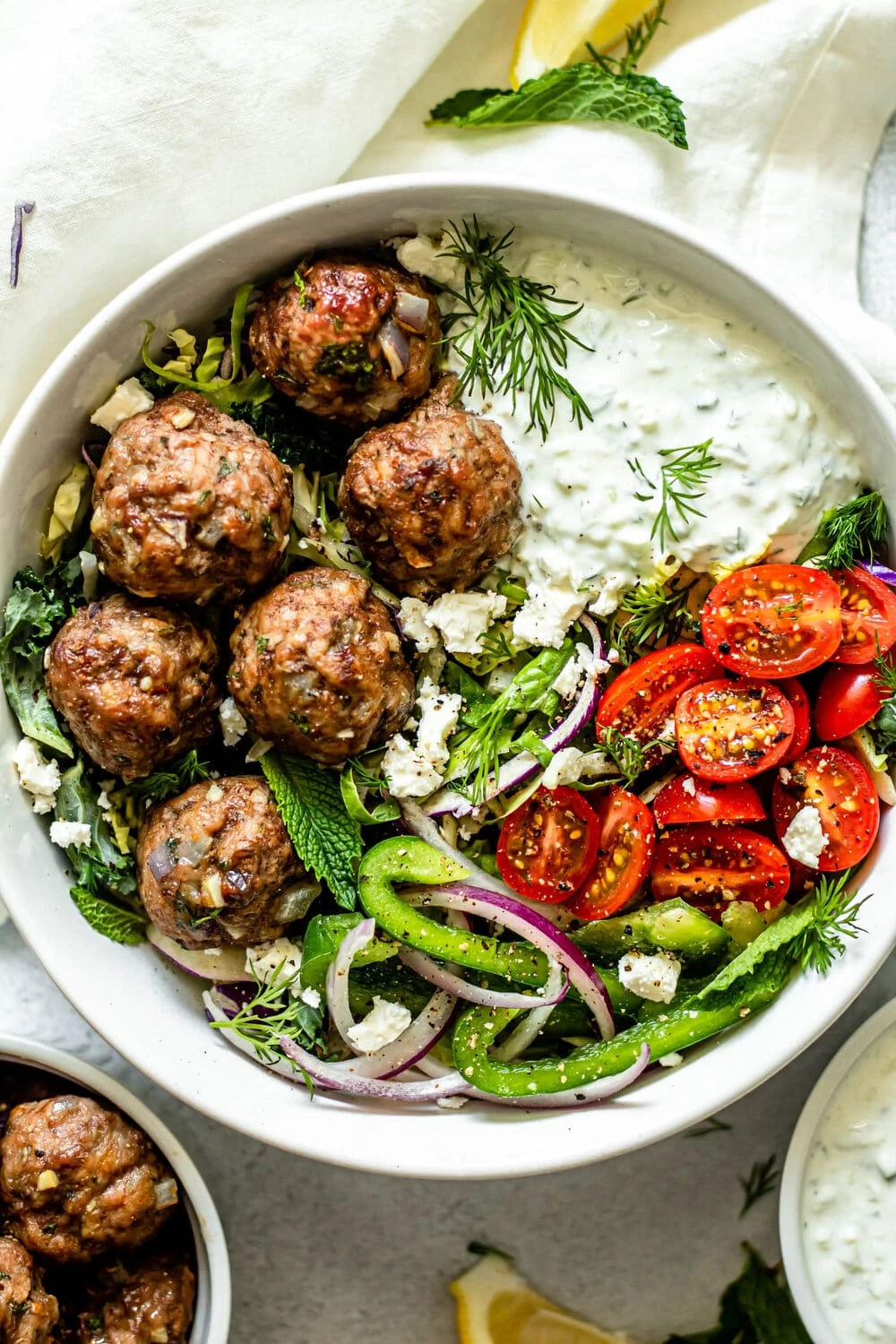 Ingredients
1 tablespoon olive oil
1 pound 85/15 ground beef
1 pound ground pork
2 teaspoon salt
½ teaspoon ground cumin
½ teaspoon ground oregano
1 teaspoon red pepper flakes
1 tablespoon chopped fresh parsley
1 tablespoon chopped fresh dill
1 tablespoon chopped fresh mint leaves
¼ cup finely diced red onion
¼ teaspoon black pepper
4 cloves fresh garlic, finely minced
Directions
Preheat oven to 180 degrees.
Add the ground pork, ground beef, fresh herbs, spices, salt, and pepper to a large mixing bowl. Use your hands to mix everything until well combined.
Scoop the meat mixture using cookie dough scoop to form the meatballs and then roll them in between the palm of your hands. Place them on a sheet pan that has been drizzled with olive oil.
After all of the meatballs have been rolled and placed on the sheet pan, bake them at 180 degrees for 15-20 minutes or until the internal temperature reaches 72 degrees.
While the meatballs are cooking, make the tzatziki sauce. Add the cucumber, garlic, and dill to a food processor and pulse until finely chopped. Add the cucumber mixture to the Greek yogurt and still until well combined. Stir in the lemon juice and salt and store in the fridge until ready to serve.
When the meatballs are done, let them cool slightly and then serve with the tzatziki sauce. Enjoy!
Notes:
Serve with a fresh salad of mixed greens, sliced capsicum, tomatoes, and crumbled feta cheese.