Molten Chocolate Mug Cake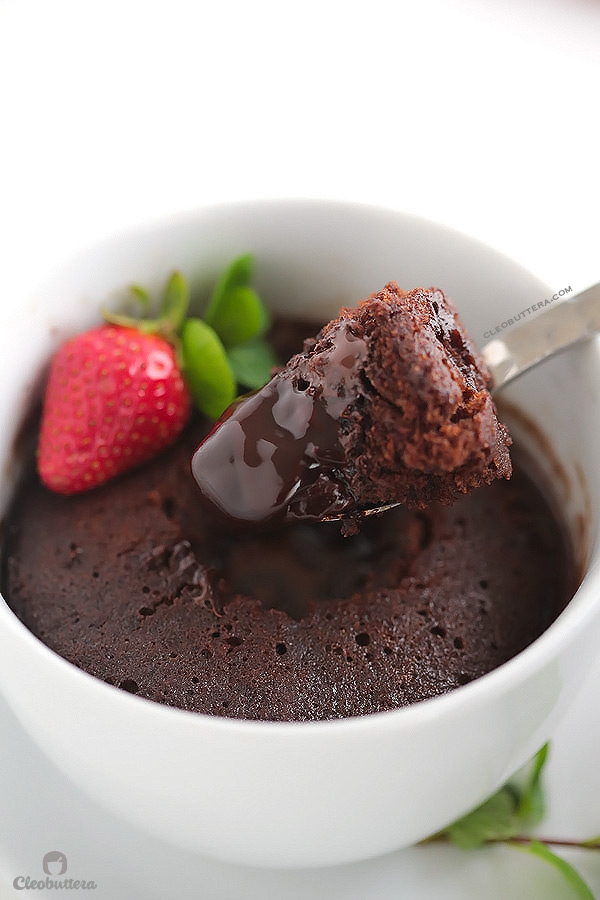 Ingredients
1/4 cup (30 grams) all purpose flour
1/4 cup (50 grams) granulated sugar
2 tablespoons (12 grams) unsweetened cocoa powder (I used Hershey's)
1/2 teaspoon baking powder
Pinch of salt
3 tablespoons (43 grams) unsalted butter, melted
3 tablespoons (45ml) whole milk
1 smallish egg, (weighing around 43 grams out of the shell)
1/4 teaspoon vanilla extract (or 1/2 teaspoon if using imitation vanilla flavoring)
A couple of pieces of chocolate of your choice (I use dark chocolate, but anything from chocolate truffles to Nutella are great additions)
1 tablespoon (15ml) water
Directions
In a 2-cup capacity microwave-safe mug or bowl, whisk together with a fork, the flour, sugar, cocoa powder, baking powder and salt until well combined.
Add in the melted butter, milk, egg and vanilla. Whisk well to combine, making sure to mix in the flour mixture in the bottom.
Place the chocolate pieces in the center of the mug. Do not push down; it will sink as it bakes.
Drizzle the tablespoon of water right on top of the batter.
Cook in microwave on full power for 1 minute and 15 seconds to 1 minute and 30 seconds (1 minute and 15 seconds is my magic number), or until the cake rises to the top, the edges look set but the surface of the center looks slightly wet and shiny, and sticks to the finger when touched. It will set up as it sits. Timing will vary according to your microwave, so you'll have to experiment until you find your perfect cooking duration. Do NOT overbake to ensure that saucy, molten-y interior. If the center still looks raw then give it another 5 to 10 seconds. The cake will fall after it comes out of the microwave.
Let it cool for about 5 minutes so you don't burn your tongue, and the waiting will also help thicken the sauce in the bottom.