Red Wine Reduction Sauce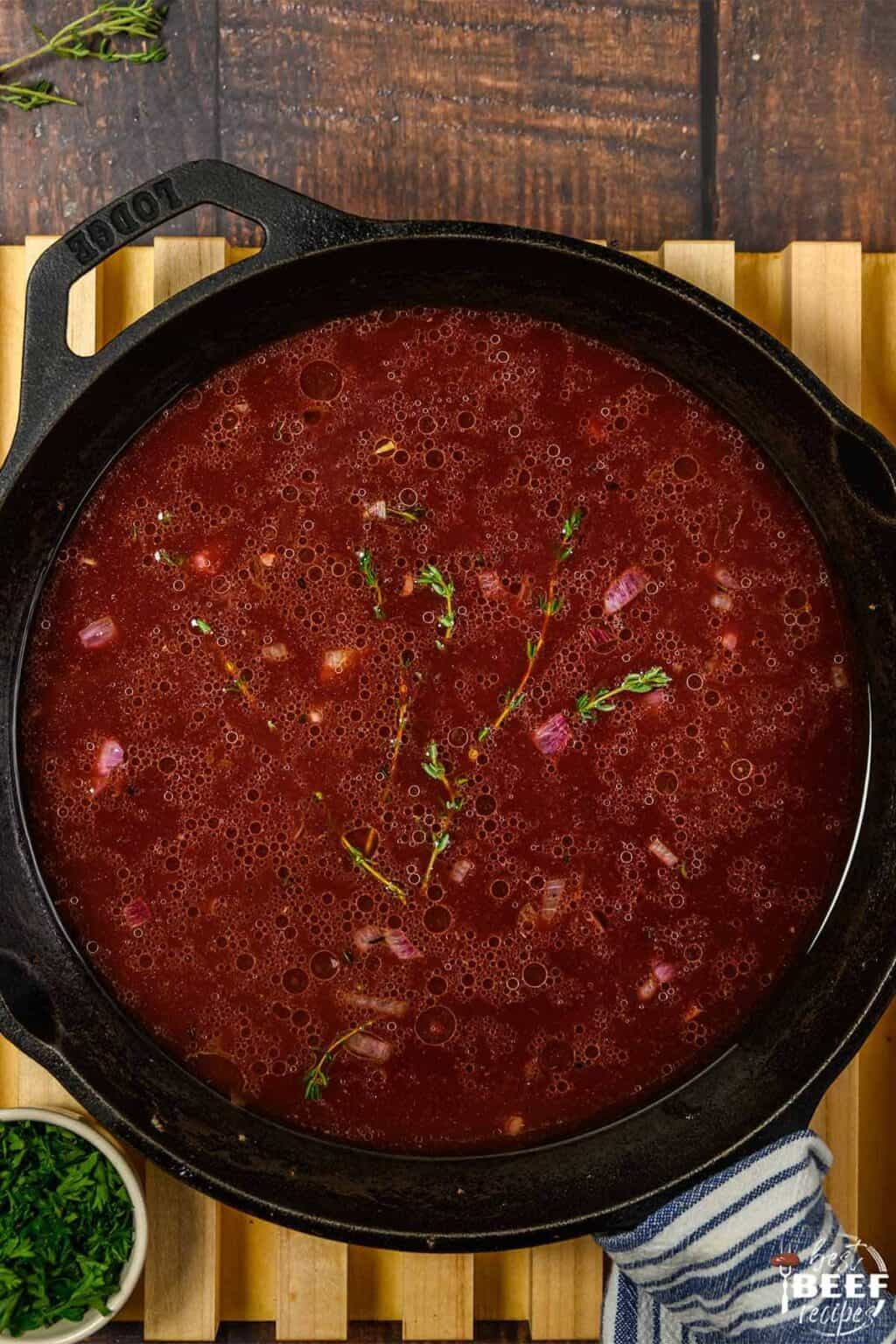 Ingredients
1 Tablespoon drippings from steak or 1 Tablespoon butter if you have no drippings
1 Tablespoon minced garlic
¼ cup minced shallots or red onions
1 cup red wine of your choice
2 Tablespoons balsamic vinegar
2 sprigs fresh thyme plus more for garnish
1 cup beef stock
¼ cup roughly chopped parsley leaves
2 Tablespoons butter
Directions
Reserve 1 Tablespoon steak drippings from your cooked steak in the pan over medium heat. If you haven't cooked a steak, melt 1 Tablespoon butter in a cast iron skillet. Then, add garlic and shallots and saute, stirring until tender, about 1 minute.
Add red wine, beef stock, balsamic vinegar, and fresh thyme sprigs. Bring liquid to a rapid simmer over medium-high heat.
Allow the wine mixture to reduce until thickened, approximately 3 to 5 minutes.
Remove the thyme from the sauce and turn the heat to low. Whisk in 2 Tablespoons butter.
Notes
A drinking wine rather than a cooking wine works best for red wine reduction sauce.
If you are making this recipe and you do not have steak drippings, you can substitute 1 Tablespoon butter to melt in the pan before adding the garlic and shallots.
When making a pan sauce, always monitor your heat. If the sauce breaks, it is likely because the smoking point of the fat was too high when the wine was added.
If you notice the sauce starting to break, immediately remove from heat and begin to whisk vigorously.